The oyster capital of Brittany
Cancale
" Comme un oiseau géant se garant des tempêtes au creux des rochers et des falaises hautes, Cancale se blottit, frileuse, au pied des côtes. "
Like a giant bird, guarding from the storms in the immersions of the cliffs and high rocks, Cancale nestles to the foot of the coast.
Thomas Maisonneuve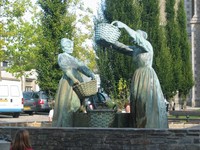 Cancale has made its reputation as a fishing port, famous for its oysters. Cancale is a town about 15 km to the east of Saint-Malo. Mont Saint-Michel can be seen from Cancale over the Bai de Mont Saint-Michel. Life and work in Cancale is based on the "queen" of mussels: the oyster.
The oyster beds are visible at the low tide around spring tide. They cover many hundred hectares.
The indigenous oyster of the Breton coasts was the huître plate or ostrea edulis, a very flat oyster. But they have been at the brink of extinction. This delicate oyster is still available at Cancale, but even in Cancale, they "harvest" mainly Crassostrea gigas, a more hollow Japanese rock oyster, which is growing faster and has generally more flesh.
There is an interesting museum of oysters "Musée des Huitres" in Cancale.
If you feel like eating: lots of restaurants are available in "La Houle", the port of Cancale, where you can taste oysters, crabs, lobsters and the like!