St. Malo: Capital of the corsaires
Bits and Pieces of its history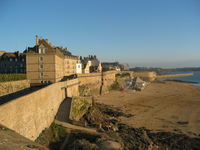 Saint-Malo is situated at the Cote d'Émeraude in the north-east of Brittany. The city's name stems from the Welsh Monk MacLow (French: Maclou, Breton: Malo), who is said to have founded the city in 6th century. Saint-Malo used to be most famous for its piracy. The corsaires of St-Malo forced English ships which passed the Channel, to pay tribute. End of the 17th century, its port was one of the most important ones in France. The mighty fortifications and ramparts have been designed by Simon Garangeau, a disciple of the famous Vauban.
About 80% of the city was destroyed in the Second World War, but they completely rebuilt the city. Today it has a population of just over 50,000.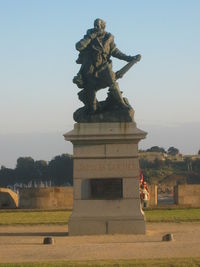 Another interesting fact: The bay of Saint-Malo can boast of staging the highest tides in Europe. The difference between low and hight tide is up to 14 metres at spring tide.
Jacques Cartier (December 31, 1491 2013 September 1, 1557) is very popular in Saint-Malo, becaus is was born and spend most of his life in this city. He was a French explorer who discoverered Canada, while trying to find a route to China.