Beaches, Cliffs and discovering Jacques Cartier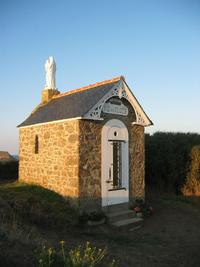 More than a suburb of Saint-Malo
A few kilometres up the coast, north-east from Saint Malo, is Rothéneuf. The village is famous for its sculpted rocks, "rochers sculptés". After the parish priest, abbé Fouré (1839-1910), suffered a stroke at the age of 30, which left him paralyzed on one side, he retreated to a life as a hermit in the cliffs of Rothéneuf. He carved over 300 fascinating, grotesque and bizarre faces und figures into the rock.
If you are at Rothéneuf you shouldn't miss a walk along or on the cliffs. For example to the Pointe de Rothéneuf with its picturesque chapel overlooking the sea or to the Pointe de la Varde with a great view on Saint-Malo, the Fort National, the mouth of the river Rance, the city of Dinard and if the weather is clear even as far as Cap Fréhal. Another attractive destination is the island (which is in reality a peninsula) "Ile Besnard". The footpath starts at a campingsite, goes along a kilometre long sandbeach, alongside sand dunes, goes on to the cliffs. Then the path - surrounded by brambles - goes all the way around the island, always at a dizzy height: the multicolored cliffs and the see on the side.
Jacques Cartier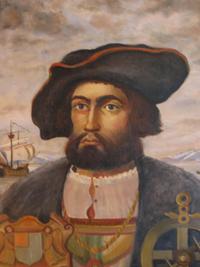 Jacques Cartier was born on the 31st of December in 1491 in Rothéneuf, which wasn't a suburb of Saint-Malo that time. There is not much known about his life before 1534, that's when he departed on his first voyage with two ships and 61 men. He was appointed by the French king Francis I to explore North America, hoping to find a passage around or through North America to China or East Asia. On this voyage he found the St. Lawrence River. On his second voyage in 1535 he followed the St. Lawrence with the help of Indian guides. He reached Stadacona which became Quebec. The continued to Hochelaga (now Montreal), where he didn't proceed any further due to cold weather and rapids. He was the first European to map, travel and attempt to establish a settlement in the northern St. Lawrence area. Cartier's exploration was the base for France's claim to Canada. Their origional intent was to search for the Northwest Passage to the Orient. in 1534 received a royal commission from the French king "to discover certain islands and lands where it is said that a great quantity of gold, and other precious things, are to be found."13 Cartier had two ships and 61 men.
Third Voyage May 23, 1541 - September 1542 Map of Cartier's third voyage, May 23, 1541 to September 1542, showing his route to Stadacona and then back to France Cartier returned to Stadacona in 1541, with the hopes of starting a new colony Copyright/Source On his third voyage (May 23, 1541 - September 1542) François I commissioned Cartier to help start a new colony. To this purpose he left Saint-Malo with five ships and about 1500 people. At Stadacona they built a fortified settlement, which they named Charlesbourg-Royal. As they king expected him to find some precious minerals as well, Cartier was happy, when it seemed as if they had found lots of gold and diamonds. He send two of his ships back to France, filled with what he thought to be gold and diamands. But it turned out to be quartz crystal ("diamonds") and iron pyrites ("gold"). Even nowadays, there is a saying in France, remembering Cartier's error: "Voila un diamant du Canada" (not literally: False like a diamond of Canada)
After his return to France in 1542, he retired in his hometown of Rothéneuf, where he died on the 1st of September 1557. His estate, Limoëlou, in Rothéneuf, was acquired in the year 1975 by David M. Steward from Montreal. Limoëlou was turned into museum.