World Heritage: Wonder of the West
Mont St. Michel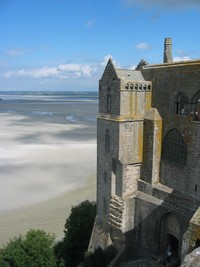 Mont St. Michel is on the north coast of France, near the border of Brittany and Normandy. In fact it belongs to Normandy nowadays, but used to belong to Brittany. Mont St. Michel is a little town and a Gothic-style Benedictine abbey, perched om a rocky, cone-shaped islet in the midst of immense sandbanks exposed to powerful tides. The church is dedicated to the archangel St Michael. Mont Saint-Michel is connected with the mainland by a causeway.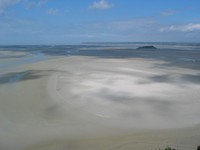 Development of Mont Saint-Michel
According to legend, the Archangel Michael appeared to Bishop Aubert of Avranges in the early eigth century and ordered him to build a chapel on top of Mont Tombe. In 966, a Benedictine monastery was established. In 1020, Richard II began the Abbey Church. In the 14th century the city was fortified against possible attacks of the English. In the late eighteenth and early nineteenth centuries there was no monestary at Mont St. Michel, but it was used as a prison.